Coral Beta 8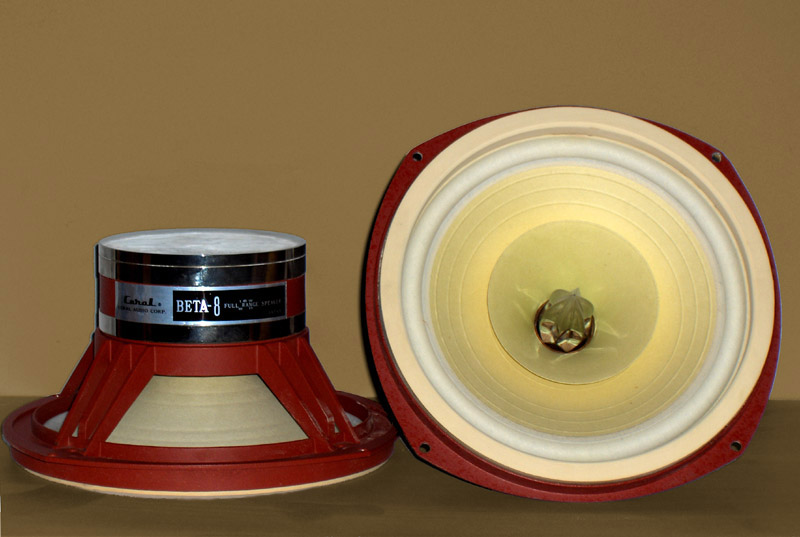 With its unique sound signature Coral Beta 8 gained a status of legendary and highly desirable full-range driver in the audiophile circles.
Coral beta 8 features specially treated paper membrane with enforcing polymer fibers, copper coated aluminum voice coil and unique star shape phase plug.

They are two versions of the Coral Beta 8. The first production (70's) was rated 16 W, and the later (80's) was rated 35W. Except the labels itself, I found only two differences between the versions - the magnet of the later production has about 4 mm larger diameter and there is a slight difference of mounting the connecting wires to the voice coil, which is completely the same for both versions. The measured difference between the versions is the same as the difference between two drivers of a same version.
This is the manufacturer's datasheet in Japanese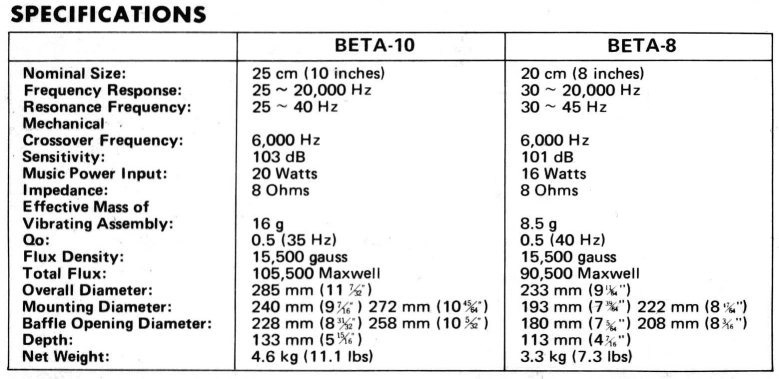 There is a misunderstanding concerning the sensitivity of this driver. The sensitivity, given in the datasheet has nothing mentioned about the measurement conditions - input voltage and a measuring distance. In fact the sensitivity does not exceed 94 dB/W/m
My Measurements
Driver Properties
Thiele - Small Parameters
Chassis material
Vacuum-molded aluminum alloy
Parameter
Measured
Datasheet
Membrane material
Enforced Paper

Fs
42 Hz
30-45 Hz
Magnet System
Ferrite type FDX4
Re
6.6 Ω
N/A
Surround
Cloth
Qms
3.60
N/A
Voice Coil Diameter
25 mm
Qes
0.38
N/A
Nominal Impedance
8 Ω
Qts
0.285
0.5
Sensitivity
94 dB/W/m
Vas
46.8 ltr
N/A
Rated Power
30W
Le
0.27 mH
N/A
This driver is suitable for back-loaded horn applications.
That's why I included a measurements in so-called "Universal" Horn.
More details about this project can be found here.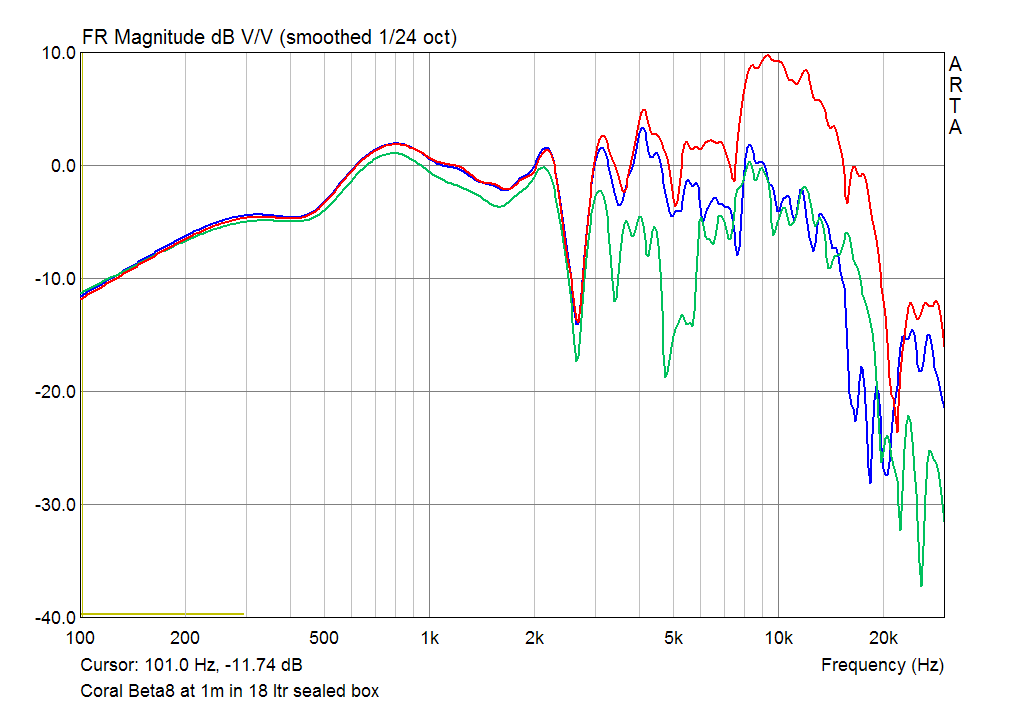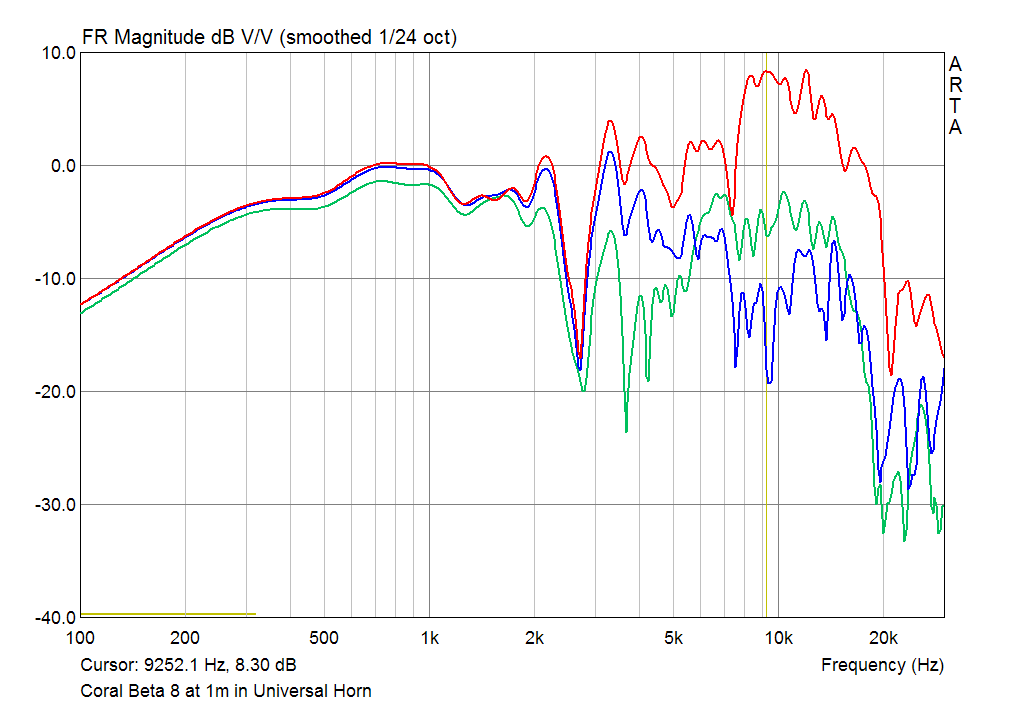 Frequency response at 1m with 2.83 V input RED - on axis, BLUE - 15 º off axis, GREEN - 30 º off axis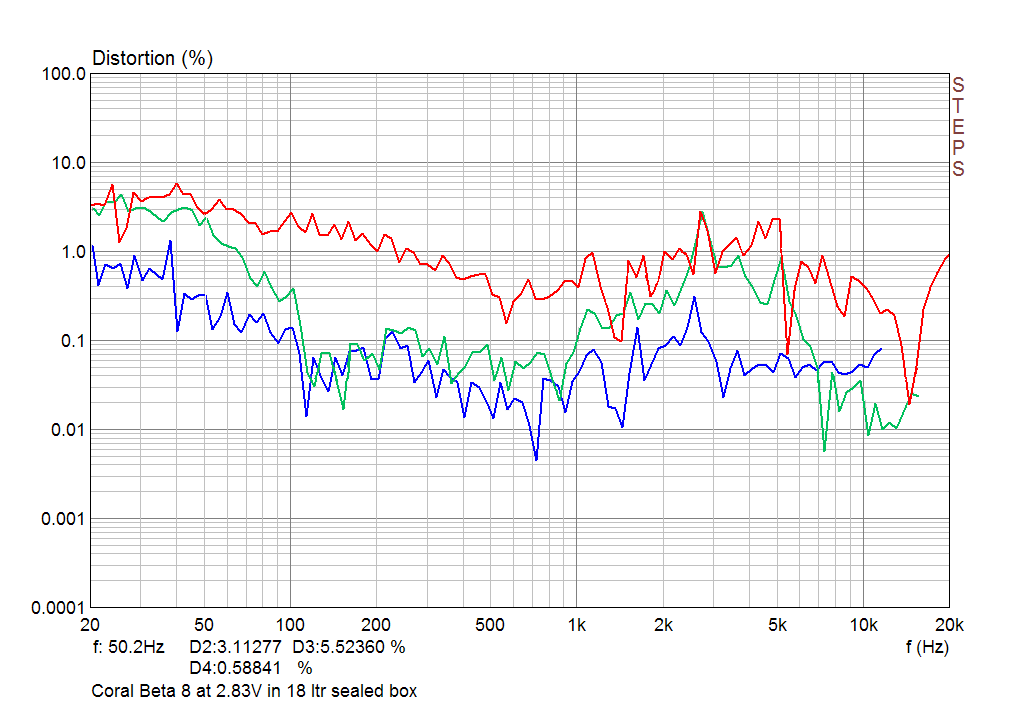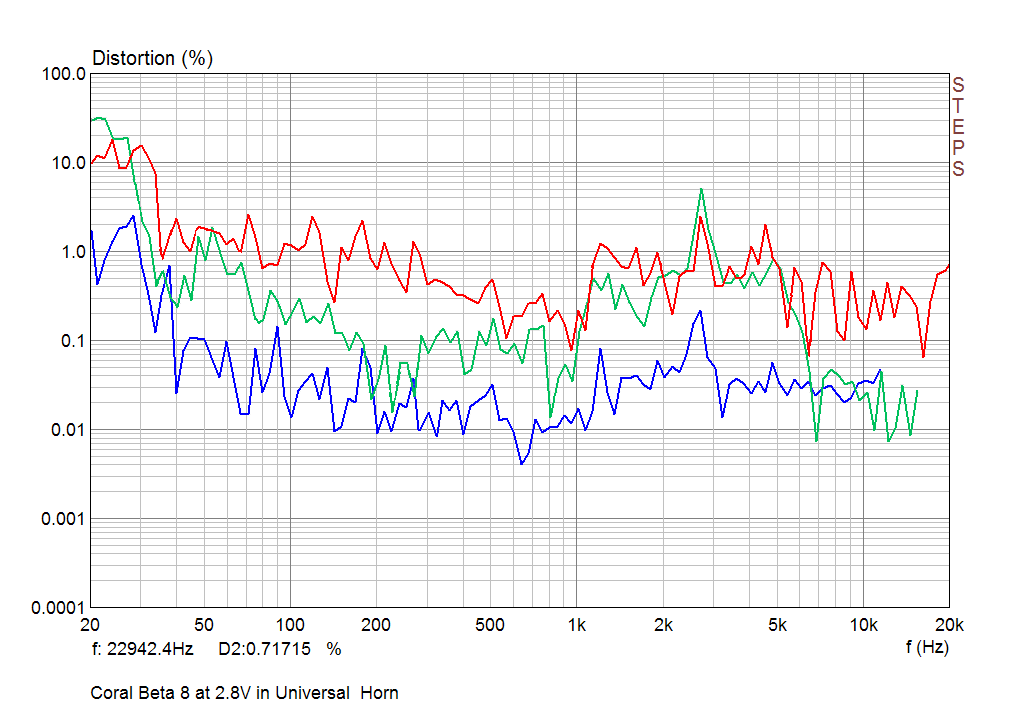 The second, third and fourth harmonic curves measured at 2.83V input RMS.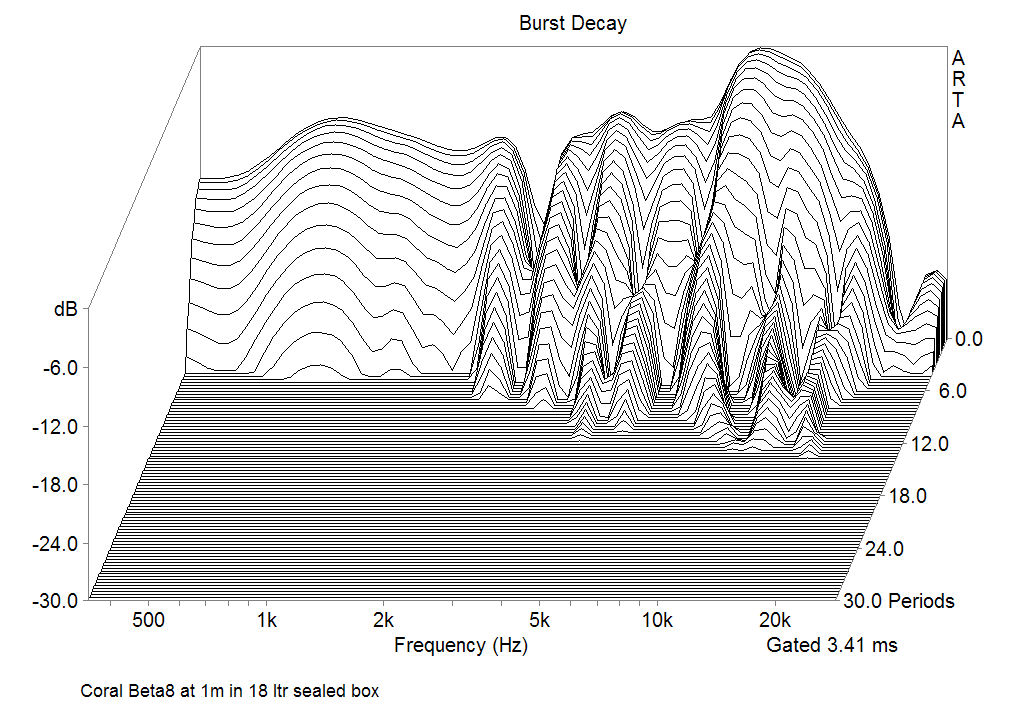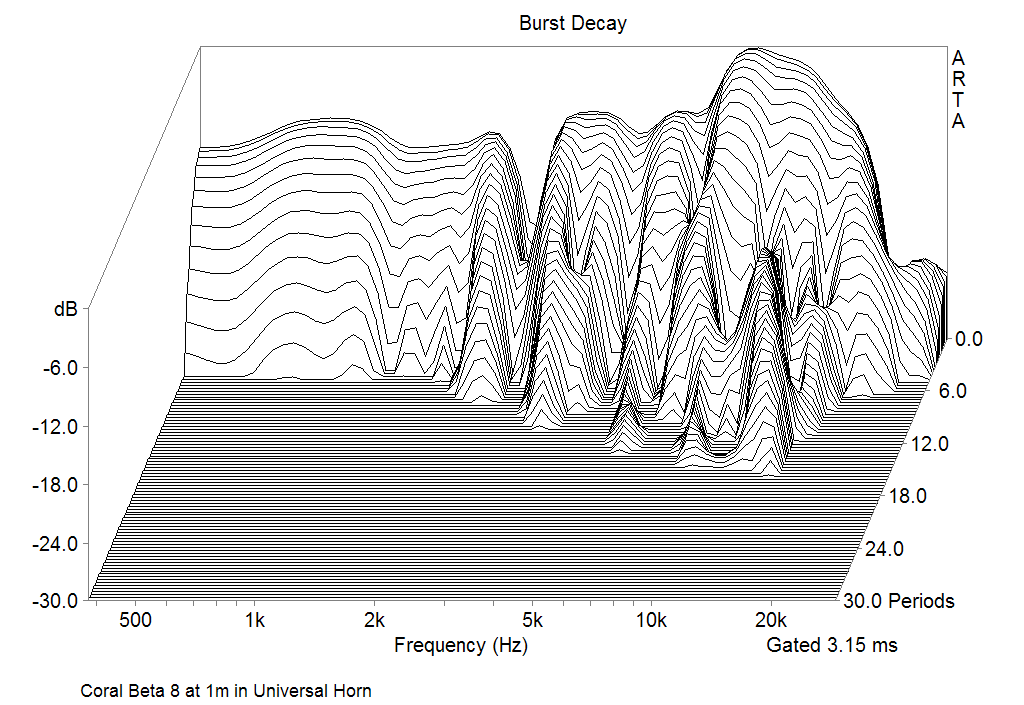 Burst decay response, measured at 1m on axis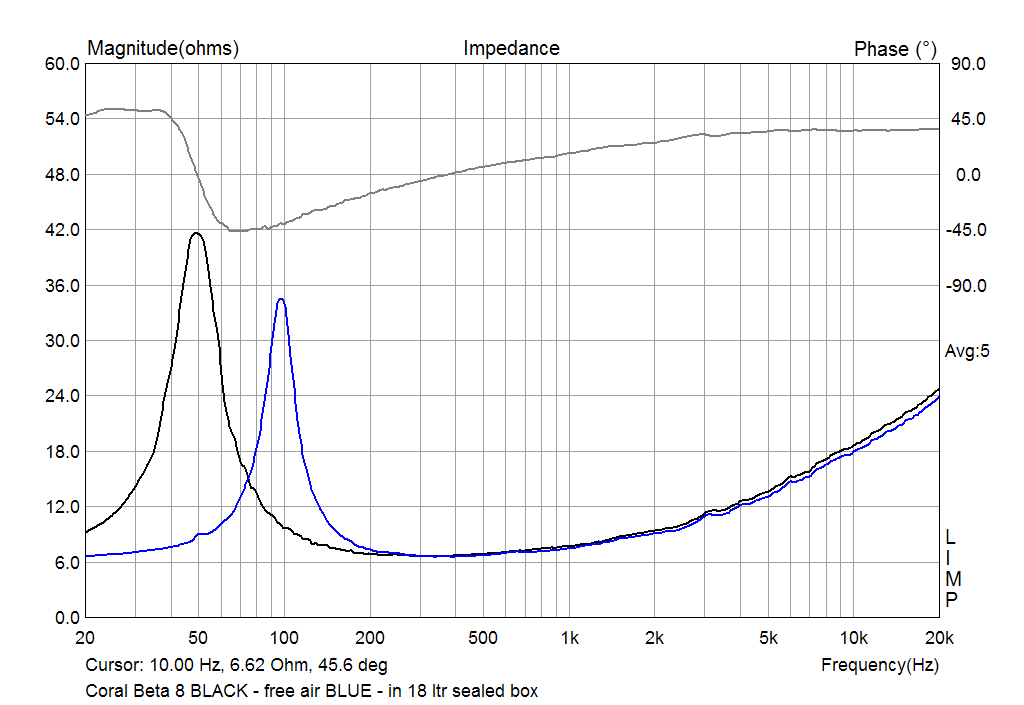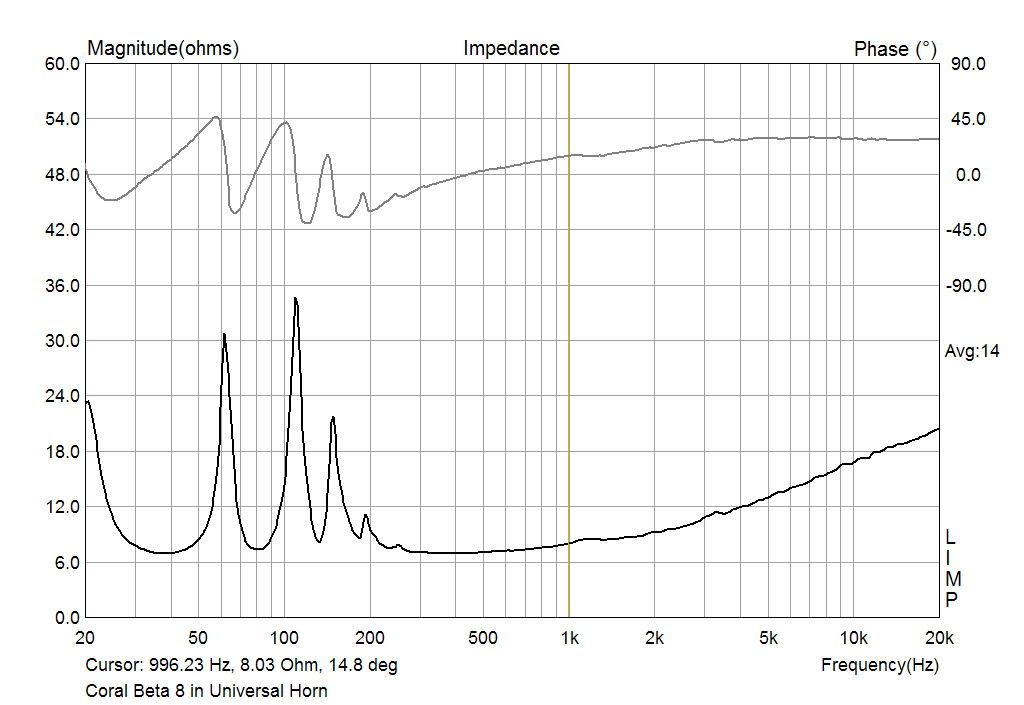 The impedance curves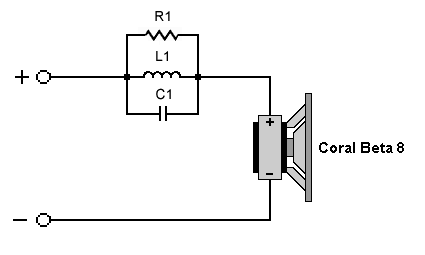 In some setups the trebles of the Coral Beta8 based system are too bright. Some listeners found this effect beautiful, but some prefer flatter response in the high-frequency range, specially when the driver is mounted in a bass reflex vented enclosure.
For an application like this a simple equalization network can be applied:
R1 = 10 Ω
C1 = 1.0 µF
L1 = 0.22 mH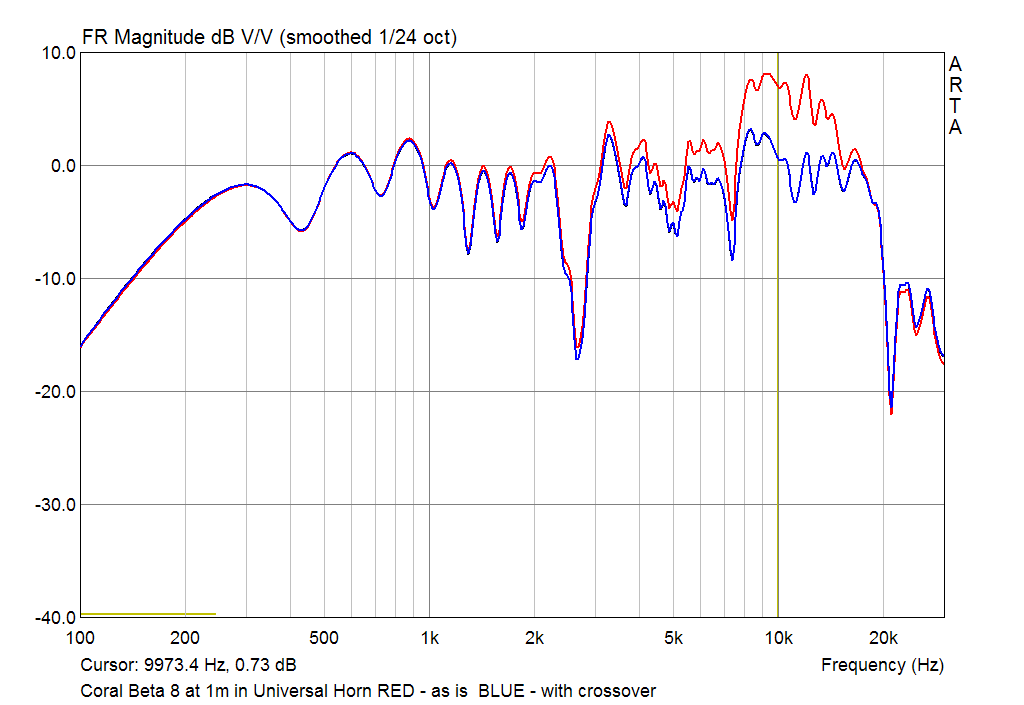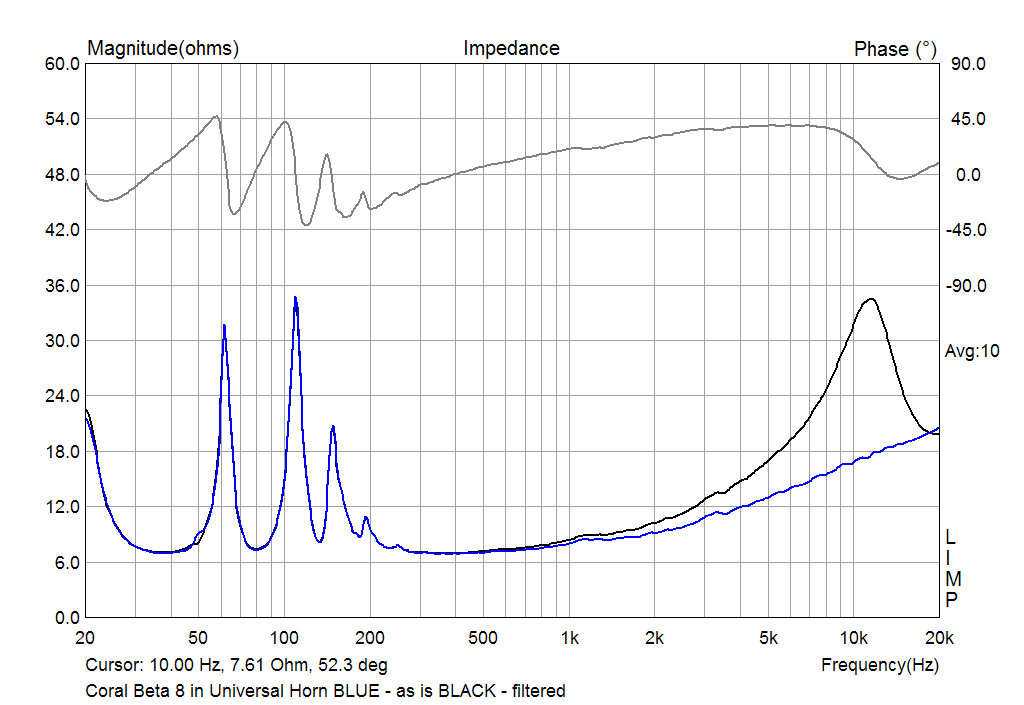 The affect of the equalization network is shown on the graphics above.
Conclusion
Coral Beta 8 has a bright details at all the listening levels. It can be matched with a wide range of single-ended and push-pull tube amplifiers. Unfortunately nowadays is not easy to find a pair in NOS condition at affordable price.
To The Top